The Black Tattoo - a book about demonic possession, flying kung fu, vomiting bats, the end of the universe and other fun stuff like that, by Sam Enthoven.
Get your very own BLACK TATTOO(s!)
Random House Children's Books (UK) have just come up with something rather brilliant. Yes, feast your eyes on these unutterably awesome Black Tat Transfer Tattoos!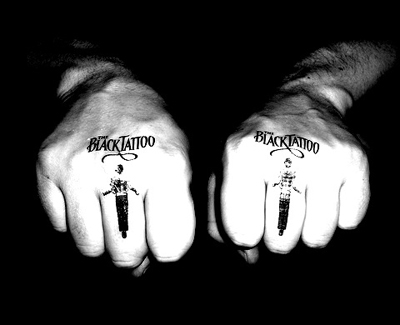 You like 'em? Would you like a couple for yourself? No problem! All you have to do is send a stamped, self-addressed envelope to the following address:

Black Tattoo Promotion(CW)
RHCB Marketing Department
61-63 Uxbridge Road
London W5 5SA

A kind person from RHCB's marketing team will then post your envelope back to you with a tattoo or two enclosed.
NOTES: !!VERY IMPORTANT, PLEASE READ!!
Don't forget to send the stamped, self-addressed envelope! You can't expect RHCB to pay your postage for you. For the same reason, this offer should probably be open to Black Tat readers in the UK only – unless you can predict exactly how much sending those tats internationally will cost.
Numbers are strictly limited. Only a small amount of these tattoos were printed. Once they're gone, they're gone, and this promotion (start date December '06) will have to come to an end. So if you want 'em, better get on the case!
Only one entry per household. See above. Don't be greedy now! ;)
These are fully removable printed latex transfer temporary tattoos. A list of ingredients and full instructions are printed on the back of each one. If you are allergic to any of these ingredients you should avoid using this product. Also, do not apply the tattoos to sensitive areas – such as on or near your eyes – as this might be bad for you!
WARNING: These tattoos will not move by themselves, give you superpowers, suddenly turn you into an unbeatable martial artist or make you want to destroy the universe. –Probably! HEE HEE HEE HEE!